SATURDAY, 15TH JULY 2023
10AM TO 3PM
If you're on the hunt for the perfect wedding venue, our wedding fair is a wonderful opportunity to check out Byron's incredible properties all in the one day.  Each venue varies with their offering so we suggest doing some research before the day to see which places resonate with you most. Create your own journey and travel between each venue at your leisure.
*Please note, you will need your own transport to travel between the venues. Suppliers will be located across Byron Bay Surf Club, Ewingsdale Hall, Byron View Farm and Fig Tree Restaurant. 
As there's quite a few venues to see on the day, we recommend requesting information packs to help you narrow down the options.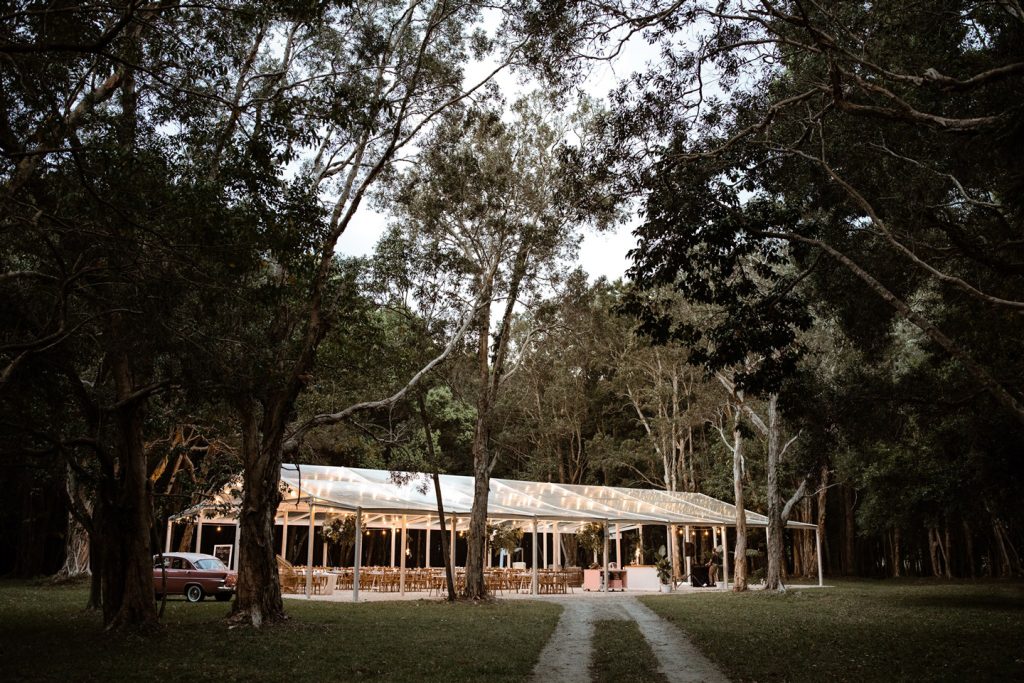 Victoria's Estate Byron Bay
Victoria's Estate Byron Bay invites you to host your ceremony and reception, with boutique accommodation nearby at Victoria's Ewingsdale. This beautiful estate is immersed in amongst towering trees on 150-acres in the heart of Byron Bay and is one to not be overlooked.


Onsite ceremony and reception
250 standing
250 seated
BYO drinks
$11,900
Victoria's Ewingsdale
46 Bay Vista Lane, Ewingsdale
Ewingsdale Hall
The Ewingsdale Hall is one of the most historic buildings in the Byron Bay area, built in 1908 it is located in the scenic William Flick Lane with its canopy of huge Moreton Bay fig trees.
Ceremony area on-site
120 standing
90 seated
BYO drinks
$3,000
Not available
William Flick Lane, Ewingsdale
Byron View Farm
A 100 year old farmhouse exposing 360-degree uninterrupted ocean to mountain views on an exclusive private property. Byron View Farm is considered one of the most breathtaking wedding venues in the region of Byron Bay.
On-site ceremony and reception
60 standing
60 seated
BYO drinks
From $2,500
On-site accommodation
194 St Helena Rd, McLeods Shoot
The Fig Tree
Enjoy panoramic views of the Byron Bay hinterland and ocean as you relax and indulge guests with a romantic dinner. Boasting a 150-year-old historic fig tree, a grapevine canopy and several different areas to enjoy, this wedding venue is the epitome of effortless luxury.
On-site ceremony and reception
N/A
-
BYO drinks
Enquire within
On-site accommodation
4 Sunrise Ln, Ewingsdale
Forget Me Not
This awe-inspiring wedding venue offers a fairytale setting overlooking a lake with water lilies and a little rowboat beside an old wooden jetty. Enjoy the expansive grounds of this 100 acre property featuring beautiful rainforest gardens.
On-site ceremony and reception
160 standing
160 seated
BYO drinks
$6,000 - $9,000
On-site accommodation
545 Coopers Shoot Rd, Coopers Shoot
The Orchard Estate
A contemporary barn-inspired restaurant, superbly positioned on 100 acres in the stunning Byron Bay hinterland. The stylish building is the epitome of country-luxe. It showcases exquisite views across a green rainforest and the property's own macadamia orchard whilst offering the perfect blank canvas for any wedding.
On-site ceremony and reception
100 standing
100 seated
BYO drinks
From $6,850
Onsite accommodation available
1344 Bangalow Rd, Clunes
Byron Bay Surf Club
Located right in the heart of town, enjoy magnificent views of Byron's Main Beach, the historic Cape Byron Lighthouse, Julian Rocks, and the Mt Warning caldera as you say your vows upon a spacious deck.
On-site ceremony and reception
150 standing
150 seated
BYO drinks
$5,000
N/A
Bay St, Byron Bay
Victoria's at Ewingsdale
Victoria's is a stunning European inspired boutique hotel and wedding venue located in the beautiful Byron Bay hinterland.
On-site ceremony and reception
70 standing
50 seated
BYO drinks
$9,990 - $14,990
On-site accommodation
Parking on Bay Vista Ln, Ewingsdale
Earth House
The complete wedding destination, EarthHouse boasts a purpose built event space created as a blank canvas for your big day. Exclusively yours for the weekend, this beautiful venue offers rammed earth architecture, extensive gardens and mountain views, all set in a spectacular hinterland location.
Onsite ceremony and reception
130 standing
120 seated
BYO drinks
From $2,200
On-site accommodation
334 James Gibson Rd, Clunes
Villa Riad
The newly built Villa Riad is a luxurious private estate in Byron Bay. A bespoke transcontinental architecture inspired by India, Greece and Morocco. This unique intimate resort offers you numerous ceremonial spots, function space, tropical gardens for photos and accommodation for you and your guests.
On-site ceremony and reception
60
60
BYO
Enquire within
Sleeps 22 guests
52 Plantation Dr, Ewingsdale
Victoria's at Wategos
Situated on the eastern side of Byron Bay, Victoria's At Wategos is a stunning Tuscan style villa, nestled in the exclusive oceanfront valley of Wategos Beach, just under the famous Cape Byron lighthouse. Enjoy an intimate wedding celebration in the beautiful European style luxury villa with world-class views.
Ceremony and reception on-site
40
30
BYO drinks
POA
On-site accommodation
1 Marine Parade, Byron Bay
Frida's Field
Frida's Field is set on an idyllic 120-acre eco-farm with stunning views of lush pasture and rolling green hills. The variety of spaces around the property have been designed to create a memorable journey over the course of a wedding day. The purpose-built timber barn maximizes the stunning views and offers an impressively elegant interior with neutral colours and natural textures.
Ceremony area onsite
120
120
Licenced venue
$6,000 - $8,000
Onsite accommodation available
76 Booyong Rd, Nashua